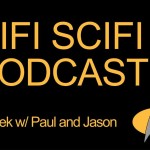 Another Season 1 episode that shows promise. Above all this episode shows what happens when you let the characters on "The Next Generation" feel a little more human, and have a little more fun.
We see the birth of the "Holodeck Episode", Dixon Hill, Data's fascination with the world of fiction, and so much more.
Come along with us, as we turn off the safety protocols and discuss "The Big Goodbye"!