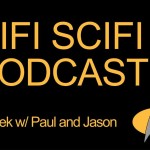 Our next episode is an absolute bonkers "adventure" – here's the preview.  Teenage love, shapeshifters, and absolutely dreadful costumes make this another weird Season 1/2 show… so this show is not newbie friendly, but it is entertaining.
We also hear from you!  Keep up the great tweets, facebook posts, or even email us:
jason@hifiscifipodcast.com
paul@hifiscifipodcast.com
Full show next week!