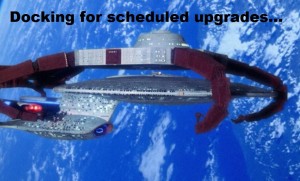 With the halfway point reached in Season 1 – we're going to take a brief pause here to regroup, reflect, and record fresh episodes.  Paul and I will be back in 3 weeks with fresh episodes of the HiFi SciFi Podcast!
In the meantime, feel free to drop us a line, follow us on social media, or tell some friends about the show!
See you… out there (and on May 3rd with a new episode)!
Places we are:
Twitter: https://twitter.com/HFSFPodcast
Facebook: https://www.facebook.com/hifiscifipodcast/
iTunes: https://itunes.apple.com/us/podcast/hifiscifi-podcast/id1071727467
PocketCasts: http://pca.st/DmxT
Stitcher: http://www.stitcher.com/podcast/hifiscifi-podcast
podcast RSS feed: https://www.hifiscifipodcast.com/feed/podcast
Email the show!
jason@hifiscifipodcast.com
paul@hifiscifipodcast.com